EM1 Garden
Regular price

Sale price

$29.00
EM1 Garden (concentrate) is the perfect product to create a vibrant and diverse garden environment. With a huge array of applications EM1 Garden can help solve many problems in the garden, including pest and disease control and also improve soil fertility and plant health.
Healthy soils require diverse microbial activity to break down organic matter and fertiliser inputs to promote a healthy environment for plants. EM is a certified organic, microbial inoculant that provides a broad spectrum of microorganisms, enzymes, vitamins, and various organic acids which are all essential components for healthy soils and plants. They will support the growth of other important components including mycchorrizae, earth worms, and insects already in your soil.
Benefits Of Using EM In Your Garden
Improving root structures
Enhancing fertiliser inputs
Improving organic matter breakdown
Speeding up composting processes
Increasing soil fertility
Improved yields and flower bloom
Increased disease and pest resistance
Reduced odours
For more information on what EM1 Garden will do in your garden visit the Garden page on our website. 
Using your EM
EM1 Garden can be used as it is without any further preparation, although adding equal parts of molasses to the solution of EM Garden and water will enhance activity by providing a food source for the Microbes in their new home - your garden.
Dilute EM1 Garden with water, from 1/100 to 1/1000 dilutions
Soil and Plant Drench: Add 10ml EM1 to a 10 litre watering can, thoroughly wet soil and plants (apply to 10m2 of garden)
Foliar application for maintaining plant health: dilute EM1 Garden at 1/100 with water,  spray weekly during important growth stages and during stress periods
Apply EM1 Garden regularly to you compost for odour control and to enhance compost activity
Preparation
EM1 Garden can be combined with other liquid fertiliser products such as fish and seaweed-based products to provide a further food source to the microbes in EM and also in the soil.
EM1 Garden can be enhanced and expanded by a secondary process using 5% EM1, 5% molasses and 90% water. Please visit our expanding page for further details. 
How long does shipping take?

It can vary depending on your location but as a general rule we expect it to take 1-2 days for the South Island, 2-3 days for the North Island and generally an extra day for rural delivery. 
Bulk Purchases

Please contact admin@emnz.co.nz for delivery costs on large volumes. 
Share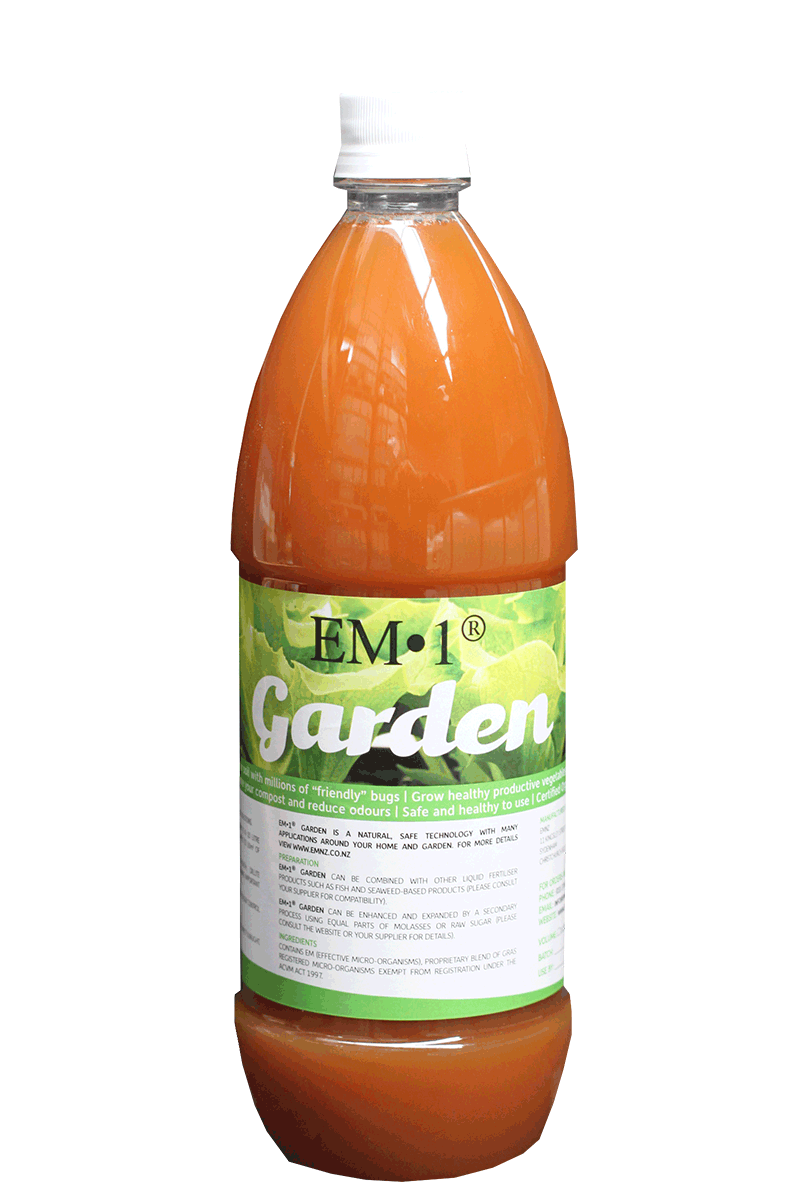 Customer review
"I have used the original EM Garden for a long time, and have been known to rave about it at my permaculture courses and garden visits, because I know that it's a great natural way to:
- increase soil fertility
- improve environmental impact
- increase disease resistance
- grow healthy plants
- increase plant resilience.
Basically, its a clever way of nurturing your soil - so that the soil in turn can nurture your plants."
- Rebecka Keeling, Slow Blooms Flowers,Matakana, NZ
Customer Testimonials
"One way I make sure my seedlings get a good start is by soaking them with a mix of EM and seaweed when planting, and then water again with EM once planted out. The effective microorganisms are supporting the soil to support the plant in the same way as nature does it, as opposed to chemical fertilisers which of course are just adding the plant food artificially reducing the soil to a holding vessel for roots - not taking advantage of all its awesome innate qualities. Lately I've been using this product called EM Garden Boost"

Rebecka Keeling, Slow Blooms Flowers, Matakana,NZ

"EM is something I swear by in the garden. I saw the difference it made in my mum's vege garden and I wanted the same. You can use it as is, or mix it with seaweed, Neem, bactur, copper, or whatever you use to feed and manage your garden. I use EM Foundation product to prep my soil for planting, and EM Foliar Enhance for quick pick me up feeds through the season. Organic and natural."

Rebecka Keeling, Slow Blooms Flowers, Matakana, NZ
FAQs
What is EM?

Effective microorganisms or EM are mixed cultures of beneficial microorganisms that can be applied as inoculants to increase the microbial diversity of soils and plants which, in turn, can improve soil health, and the growth, yield, and quality of crops.
How does EM actually work?

There is documented scientific evidence to indicate that EM cultures can

(a) suppress soil-borne pathogens,

(b) accelerate the decomposition of organic wastes and residues,

(c) increase the availability of mineral nutrients and useful organic compounds to plants,

(d) enhance the activities of beneficial, indigenous microorganisms, e.g., mycorrhizae, 

(e) fix atmospheric nitrogen, and

(f) reduce the need for chemical fertilisers and pesticides. 

 

Actually, EM tends to simulate the "rotation effect," a term used by agronomists to describe the regeneration of beneficial soil microorganisms and suppression of harmful ones which results from crop rotation.
Is EM an organic product?

Yes, EM is certified organic by BioGrow NZ and can be used in all types of organic systems. 
What can EM be used for?

EM has a huge range of uses around the home, garden, farm, business, or industrial zone. Today EM is used in many systems pertaining to agriculture and environmental management. These range from crop and animal production systems, to livestock and aquaculture units. EM is used widely in environmental management for decomposition and more importantly for recycling of wastes, both solids and liquids.

The application and use of EM technology in NZ is wide and varied:

From crops like peas, wheat, linseed to onions, potatoes, carrots and beans.
From sheep, cows and deer, to pigs and chickens
From wine grapes and olives to saffron and lavender
From recycling food waste in restaurants and schools back to gardens
From household food waste to larger office blocks and Universities collecting lunchtime food waste.
From small composting toilets in holiday homes to large composting toilets in mountain chalets for trampers and mountaineers.
From controlling odours at commercial and large municipal composting sites to controlling odours and improving water quality at vineyards treating their own wastewater.

Whilst initially the use of EM was confined to Agriculture, in recent times the growth sector has been vineyards and waste management. Visit the industries section of this website to find out more about EM's uses.