EM™ Soil & Crop
Regular price

Sale price

$99.50
EM® Soil and Crop is a certified organic technology with many applications around farm, orchard, and vineyard environments. This ready to use product works by stimulating soil biology to enhance soil performance and plant production.
EM® Soil and Crop is a natural safe technology with many applications around farm, orchard, and vineyard environments. A certified organic product, EM Soil and Crop is a ready to use product which works by getting the natural processes to function, the way nature intended.
As a soil and foliar additive EM helps germination, root formation, plant growth and plant ripening. EM RTU also improves the soil's physical, chemical and biological condition and accelerates composting.
EM RTU is to be used to improve crop and pasture yields and enhance fertiliser performance. EM RTU will enhance growth through:
Fixing atmospheric nitrogen
Converting organic matter to plant nutrients
Decomposing organic residues
Recycling soil nutrients
Enhancing Fertiliser Inputs
The microbes in EM will solubilise compounds both organic and inorganic that are largely unavailable to plants and make them available for uptake by the plants root system allowing the plant to put more energy into growth. In performing this important function the Microbes create a more efficient use of added nutrients, generating a better growth response from fertiliser inputs. Also our research has demonstrated the ability to lower fertiliser use while still getting the same yield.
Applications
Combine with fertilizer applications to increase efficacy of applications; 5 - 10 litres EM per ha
On crops, apply 10-20 litres EM per ha with as much water as possible; target key periods such as primary cultivation, pre-plant and critical growth stages
Apply through an injector into your irrigation or fertigation system. Rates of 3-10 litres EM per ha are recommended, and are determined by  frequency of application
Combine the application of EM at 10-20 litres EM per ha with weeding operations so that the dying weeds can be broken down rapidly
Soak seeds in a solution of EM 1:1000 before planting to increase seed viability
Apply EM to crop residues and green manure at incorporation stages; apply 20 litres EM per ha with as much water as needed to get good coverage
For a Foliar Spray dilute EM with water to 1% and apply to run off
During high disease challenge periods, apply as a foliar spray at 2%-5%
Download our EM Soil & Crop Info Sheet
Price is for a 20L we also sell in 200L and 1000L containers. Please contact admin@emnz.co.nz for pricing on large volumes
How long does shipping take?

It can vary depending on your location but as a general rule we expect it to take 1-2 days for the South Island, 2-3 days for the North Island and generally an extra day for rural delivery. 
Bulk Purchases

Please contact admin@emnz.co.nz for delivery costs on large volumes. 
Share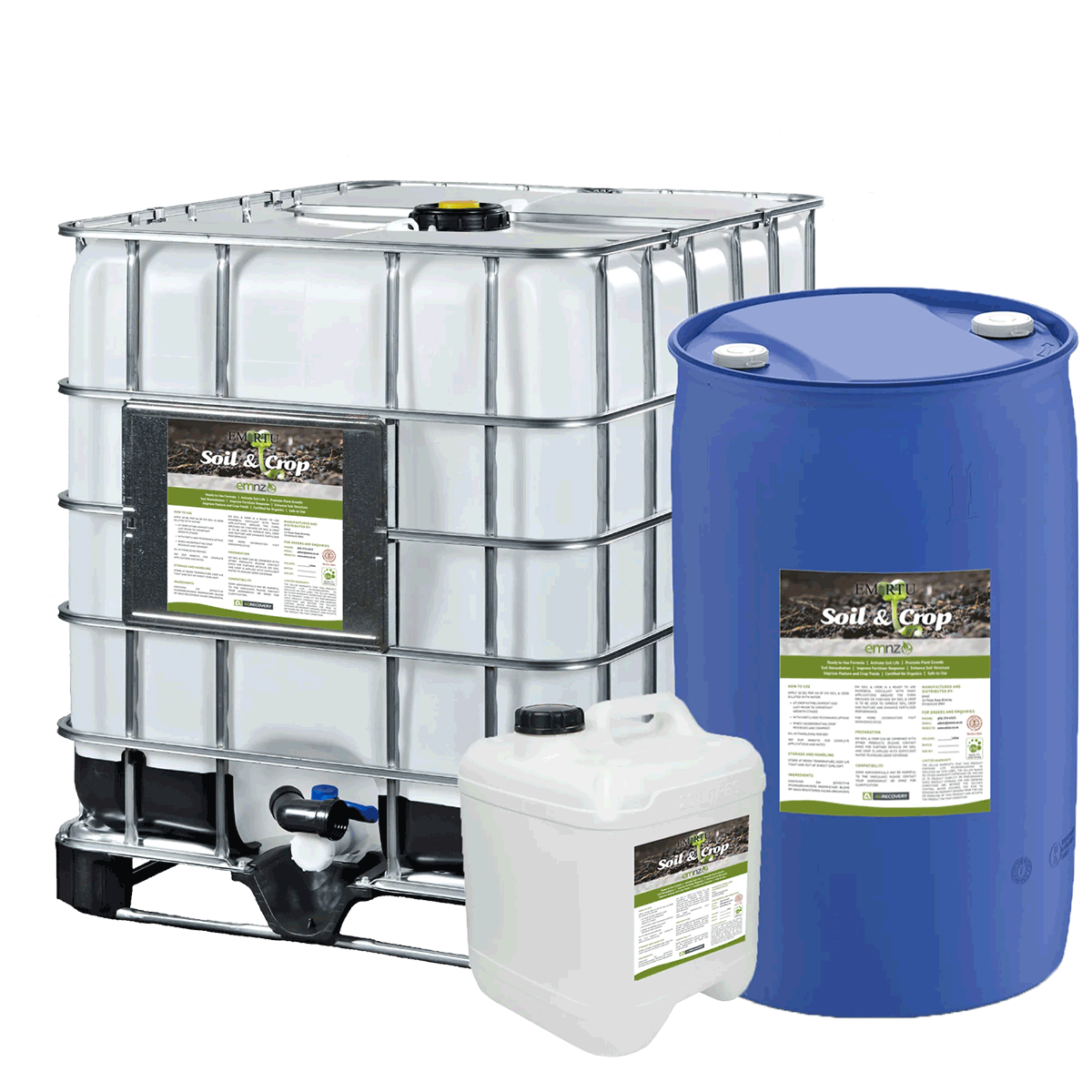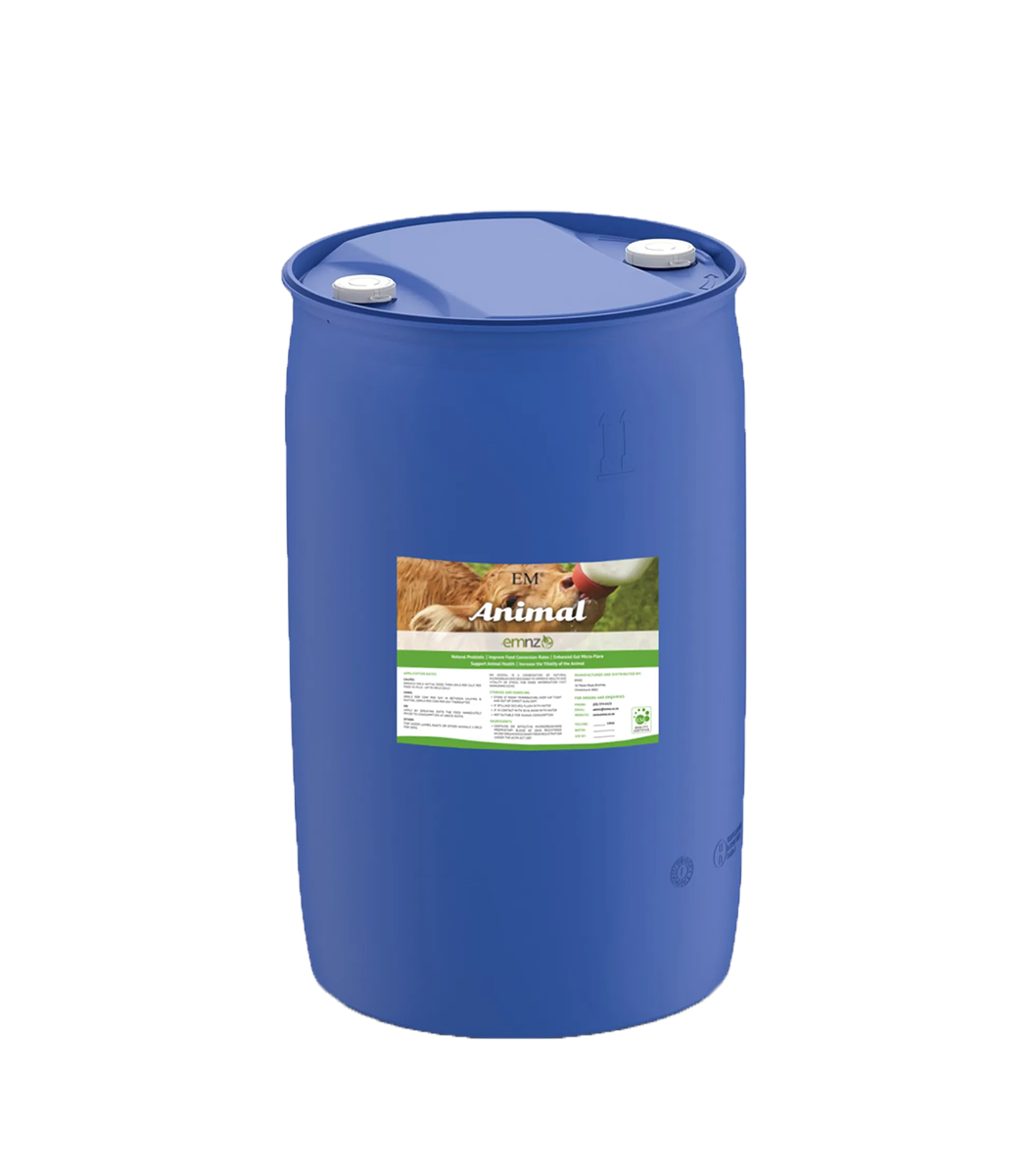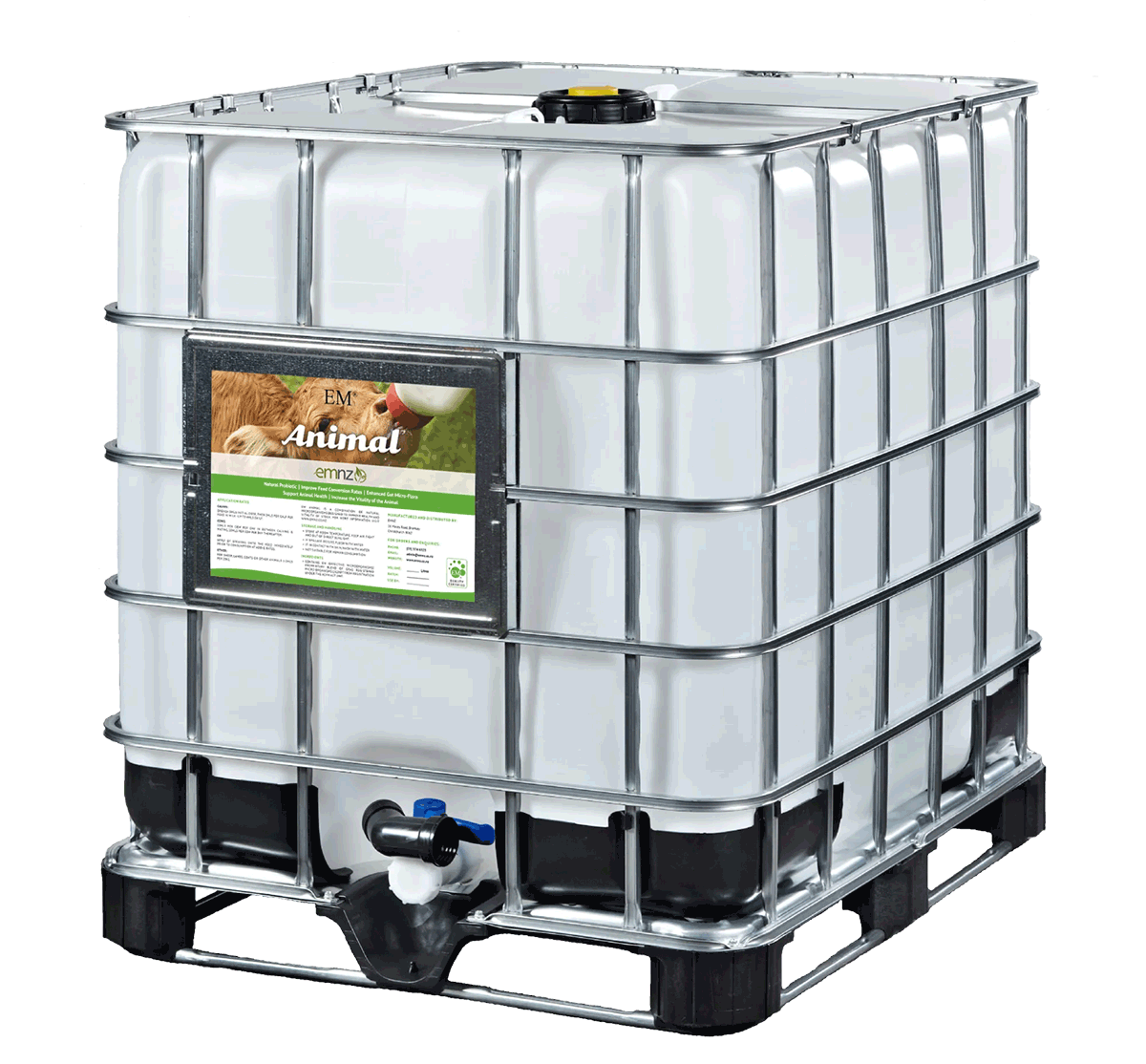 Customer Testimonials
"Over 8 years using EM I have found it to be great at rapid stubble breakdown, enhancing compost and boosting plant health"

JonoFrew, Regenerative Consultant and Farmer, Kurow, NZ

"Paddocks are green and healthy without any urea use. The insect and disease rates have decreased significantly"

AshleySeaton, Mixed Cropping and Beef Farmer, Canterbury, NZ

"How do we get our plants to bounce back and start producing again after the cyclone? We're using the organic products by EMNZ. Our favourite soil drench is EM Soil and Crop, and for foliar spray we use EM Foliar Enhance"

Rebecka Keeling, Slow Blooms Flowers, Matakana,NZ
FAQs
What is EM?

Effective microorganisms or EM are mixed cultures of beneficial microorganisms that can be applied as inoculants to increase the microbial diversity of soils and plants which, in turn, can improve soil health, and the growth, yield, and quality of crops.
How does EM actually work?

There is documented scientific evidence to indicate that EM cultures can

(a) suppress soil-borne pathogens,

(b) accelerate the decomposition of organic wastes and residues,

(c) increase the availability of mineral nutrients and useful organic compounds to plants,

(d) enhance the activities of beneficial, indigenous microorganisms, e.g., mycorrhizae, 

(e) fix atmospheric nitrogen, and

(f) reduce the need for chemical fertilisers and pesticides. 

 

Actually, EM tends to simulate the "rotation effect," a term used by agronomists to describe the regeneration of beneficial soil microorganisms and suppression of harmful ones which results from crop rotation.
Is EM an organic product?

Yes, EM is certified organic by BioGrow NZ and can be used in all types of organic systems. 
What can EM be used for?

EM has a huge range of uses around the home, garden, farm, business, or industrial zone. Today EM is used in many systems pertaining to agriculture and environmental management. These range from crop and animal production systems, to livestock and aquaculture units. EM is used widely in environmental management for decomposition and more importantly for recycling of wastes, both solids and liquids.

The application and use of EM technology in NZ is wide and varied:

From crops like peas, wheat, linseed to onions, potatoes, carrots and beans.
From sheep, cows and deer, to pigs and chickens
From wine grapes and olives to saffron and lavender
From recycling food waste in restaurants and schools back to gardens
From household food waste to larger office blocks and Universities collecting lunchtime food waste.
From small composting toilets in holiday homes to large composting toilets in mountain chalets for trampers and mountaineers.
From controlling odours at commercial and large municipal composting sites to controlling odours and improving water quality at vineyards treating their own wastewater.

Whilst initially the use of EM was confined to Agriculture, in recent times the growth sector has been vineyards and waste management. Visit the industries section of this website to find out more about EM's uses.